Brownville, Nebraska has 10 museums.
Now this might not seem odd, but what makes it odd is that this small hamlet has a population of 142. That's one museum for every 14 residents!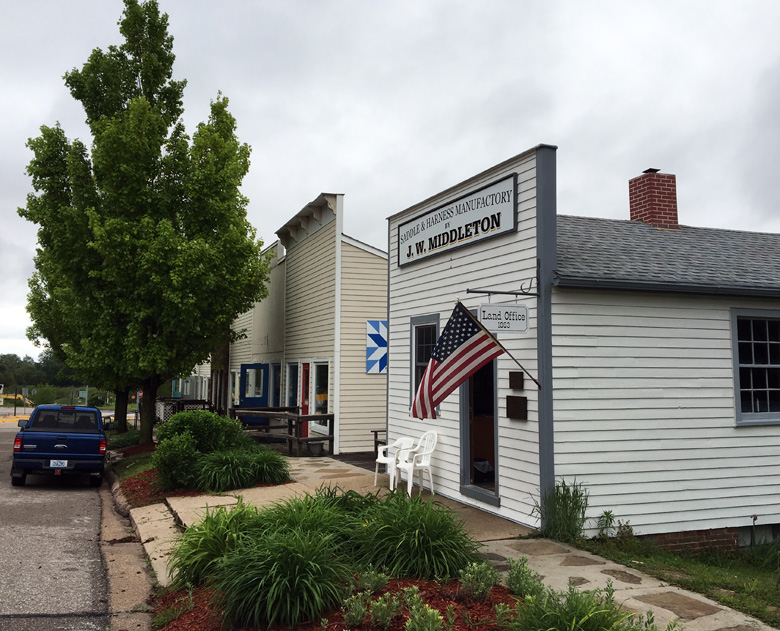 Brownville also has an Opera House, a successful summer repertory theatre, and an annual Catfish Tournament. Surprisingly, all these are supported by volunteers drawn from this tiny community.
But Brownville wasn't always tiny.
Lewis and Clark stopped near here in 1805. By the mid-1800s, Brownville was booming as people moved west looking for greener pastures and a better life. They came in covered wagons, across Nebraska's huge open plains of tall grassland. And they came down the wide Missouri River; as many as five steamboats a day stopped here. One remains anchored here – The Spirit of Brownville  and has been turned into a quaint hotel on the water.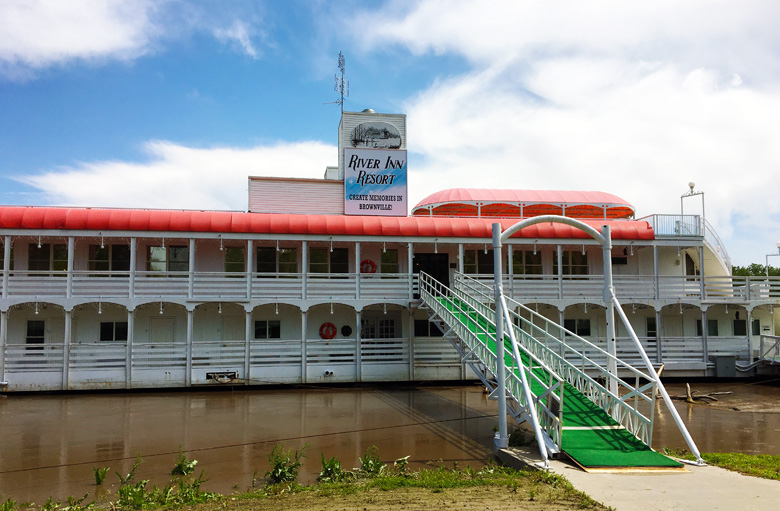 While there's some dispute as to whether it was, in fact, the first town in Nebraska, Brownville certainly hosted the first Nebraska State Fair. The first wheat and alfalfa were grown here. The first settler to take advantage of the first Homestead Act was Daniel Freeman, who lived here. As did the first female homesteader in America, Mary Meyers.
But in the late 19th century, the railroad by-passed Brownville, and so did prosperity. According to one story, Billy the Kid came to town, but realizing there was nothing to steal, he left.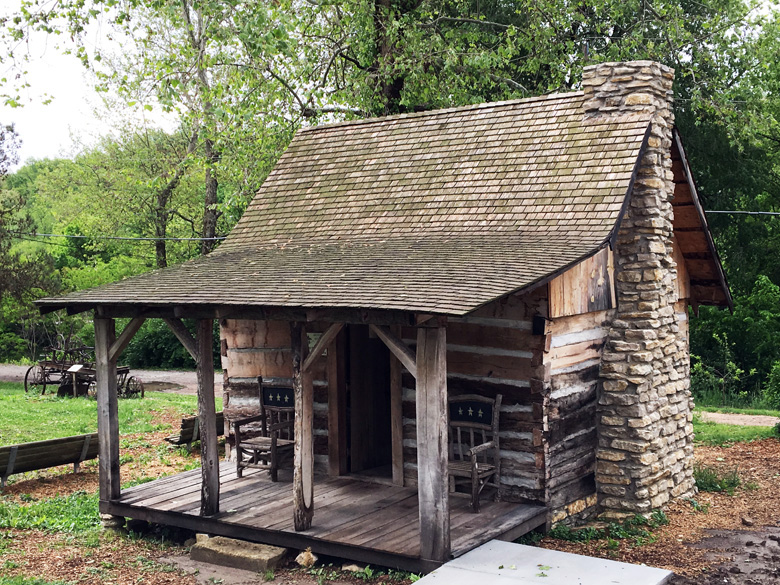 The depression was in a small way a blessing. Those charming old historic buildings weren't torn down to make way for concrete and steel. Instead, they remain a poignant illustration of the history of America. Indeed, the first log cabin, built in 1854 by  John Didier, remains beside the main street.  And while the population dwindled, their determination to preserve the past remains strong.
Nebraska's second governor, Robert W. Furnas, lived in Brownville; his home is now a museum. A statue of him planting a tree commemorates the fact that he was the first to sign the declaration of Arbor Day. Arbor Day was the brainchild of another Nebraskan, J. Sterling Morton, and according to Jan Wright, secretary of the Brownville Fine Arts Association, the two vied throughout their lives to plant the most trees. "Furnas won," she asserts, "But has never been recognized the way Morton was."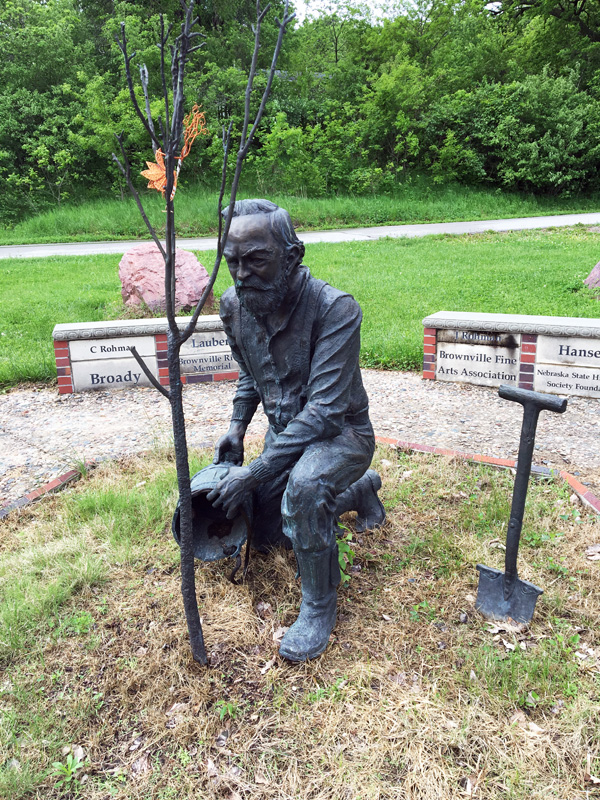 The Captain Bailey House is a glorious brick building which belonged to a Civil War Captain, who is apparently still resident here. The doors inside the house will not stay closed courtesy of his ghost. But there appears to be no ghost stories associated with the Old Carson House, another beautiful Victorian building.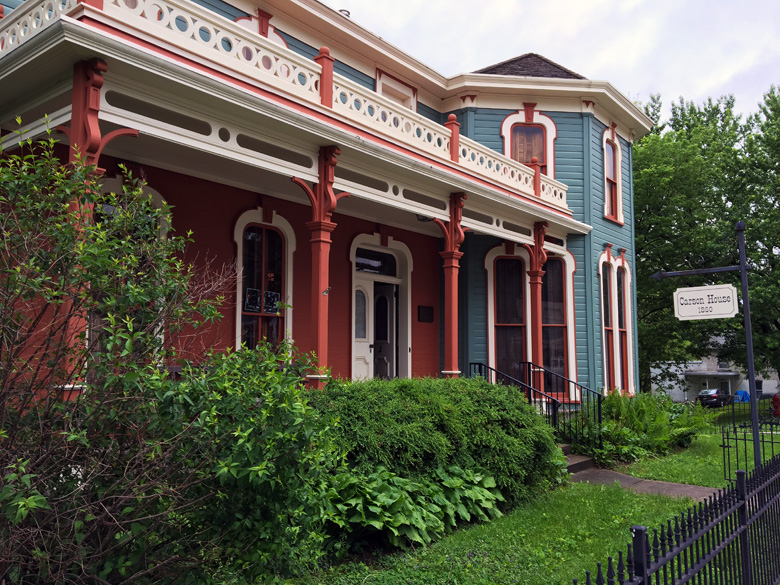 So many museums
A giant tooth hanging outside Dr. Spurgin's Dental Office Museum, must once have terrified potential patients. Today I marvel at the tools of frontier dentistry (and shudder!) Next door, is the broom maker where I'm tempted to purchase a traditional sweeper to take home (I wonder what airline regulations would make of that!).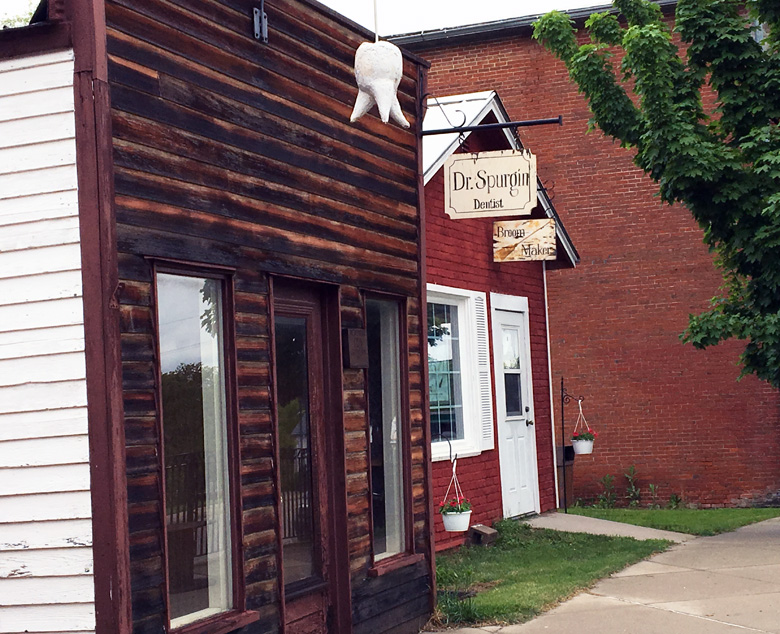 The Sage Memorial Museum provides a potted history of the area which was once home to a significant number of Indian tribes. It features a wonderful wall of photos of the 35 tribal chiefs who attended the 1898 Indian Congress. Some of their names are fascinating and leave me wondering about their origins: Afraid of Eagle, Strikes with Nose, Touch the Cloud and Three Fingers.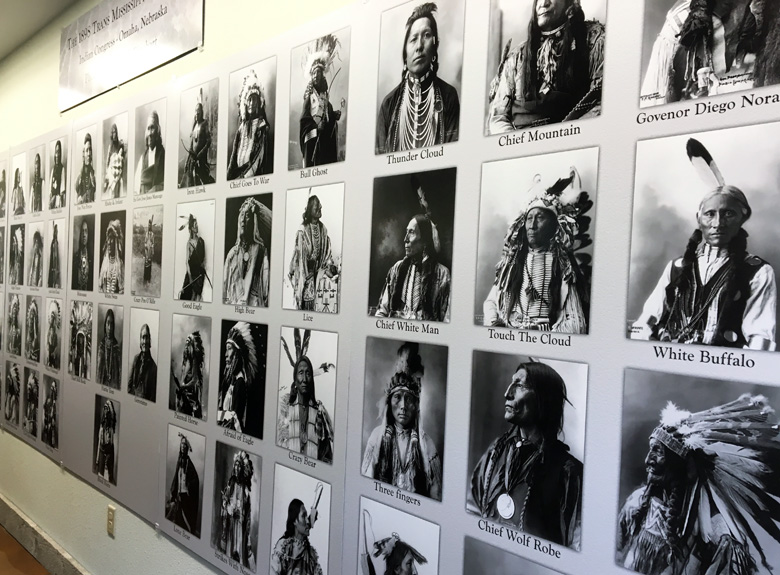 Flatwater Folk Art Museum
Probably my favourite museum here is in a handsome old church building. The Flatwater Folk Art Museum is an extraordinary, colourful hodgepodge from around the world, reflecting the sense of fun of its two creators, George and Eva Neubert. Whimsical, charming, religious, historic, even erotic  – there's no genre of folk art that isn't represented in this building.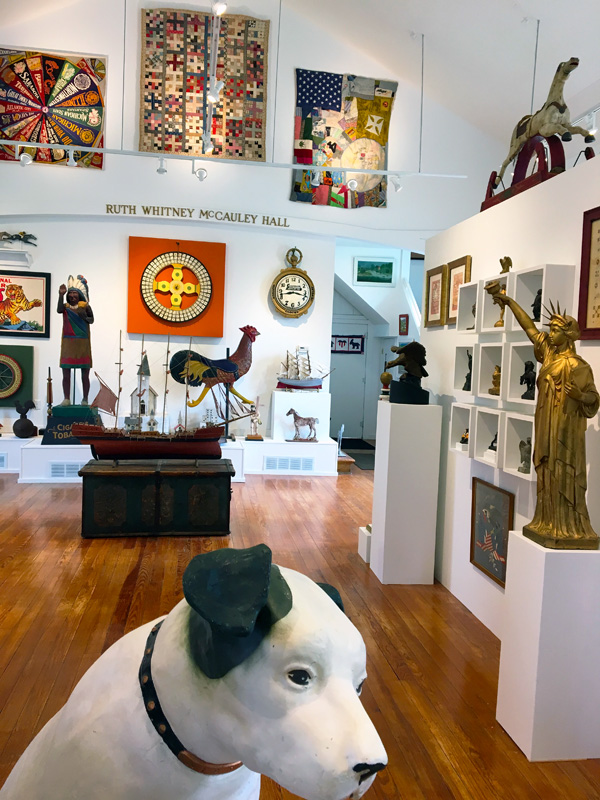 George Neubert's own credentials are impressive, having been director of both the San Antonio Museum of Art and the Sheldon Museum of Art in Lincoln, NE. Sculptor Mark di Suvero is a friend and supporter. He donated the huge metal sculpture made from an old lumber machine outside the museum, a perfect reflection of the whimsy inside.
Booktown
In fact, this whole town is whimsical, reflecting the passions of its residents. The Antiquarium needs the old school in which it is located to display the 150,000+ books it sells. Owner Tom Rudloff, introduced Brownville to The Booktown Movement, making Brownville one of only three designated Booktowns in the USA. Three more bookshops in town now make this a great place for bibliophiles to visit. Below is Jen's, just one of the shops combining antique hunting with books.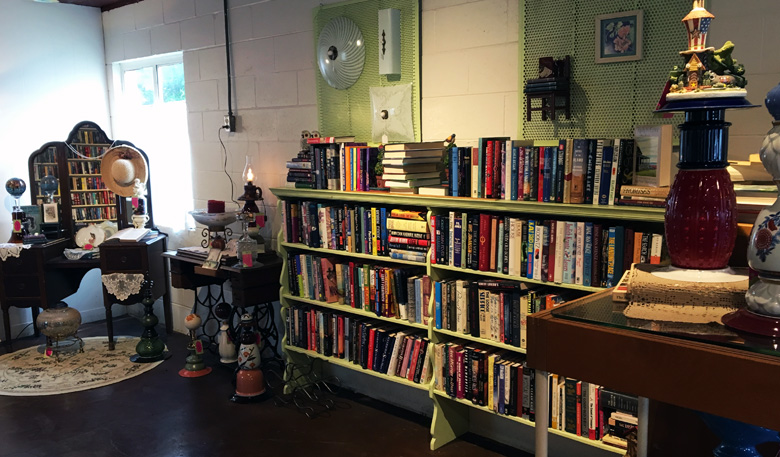 After browsing, it's time for some sipping. Nearby Whiskey Run Winery offers samples and also a tour of the original brewery caves which became a popular spot for hiding whiskey during Prohibition.
Now didn't I tell you this little town is special?